How to Enter:
Throughout the duration of 2021, The Knot is selecting 21 deserving couples for a once-in-a-lifetime chance to have experts at The Knot plan a personalized proposal to help kick off their journey toward marriage! Eligible couples will include one or both individuals having served as an essential worker, as defined by the CDC, since the start of the COVID-19 pandemic.
Couples can be nominated by sharing details about their unique love story and why they deserve a larger-than-life proposal planned by The Knot in an email to loveisessential@theknot.com. 
Meet the Heroic #LoveIsEssential Winning Couples:
Steven and Raaga
Raaga and Steven met in 2015 while studying to get their Master's degrees in Fort Worth, TX. The two hit it off and followed each other to Mississippi for medical school, before returning to Texas for their residency programs. Today, Steven is a family medicine resident residing in Dallas, two hours from the love of his life, Raaga, an internal medicine resident in Tyler. 
With help from The Knot, Steven pulled off the ultimate surprise leading up to Valentine's Day—and proposed to Raaga on Good Morning America! She thought she was being interviewed by a local news station about her experience serving as a first-year resident during the pandemic, but Steven popped the question in front of millions on national TV. The two then celebrated at the Los Colinas Four Seasons.
Watch the full proposal here (and grab a tissue or two!). Shout out to local wedding pros Jacqueline Events, Madison Katlin Photography and Haute Floral for helping to bring their proposal to life.
Balaji and Ayesha
Balaji and Ayesha met while in medical school at the University of Chicago. Though Ayesha would tell you they met at an orientation party, Balaji remembers meeting her when she was a prospective student. A few weeks after their first date, Balaji asked to make their relationship official by writing on a card "Will you be my girlfriend? Check yes or no." She checked yes and they never looked back! Fast forward four years, the two are based in Boston, MA. Ayesha is a pediatric resident while Balaji is practicing as an internal medicine resident. 
In February, Balaji tricked Ayesha into thinking they had dinner plans while The Knot and Boston wedding pros Ashley Elaine Events, Marcela Plosker Photography, Nicole Chan Photography, Polished Balloons and Sweet Cheeks by Renee set up an intimate moment at Fan Pier Park for the two to get engaged, complete with a cookie that said "Will you be my wife?" as a nod to the start of their relationship and an edible marker for Ayesha to check yes or no. To no surprise, she checked yes!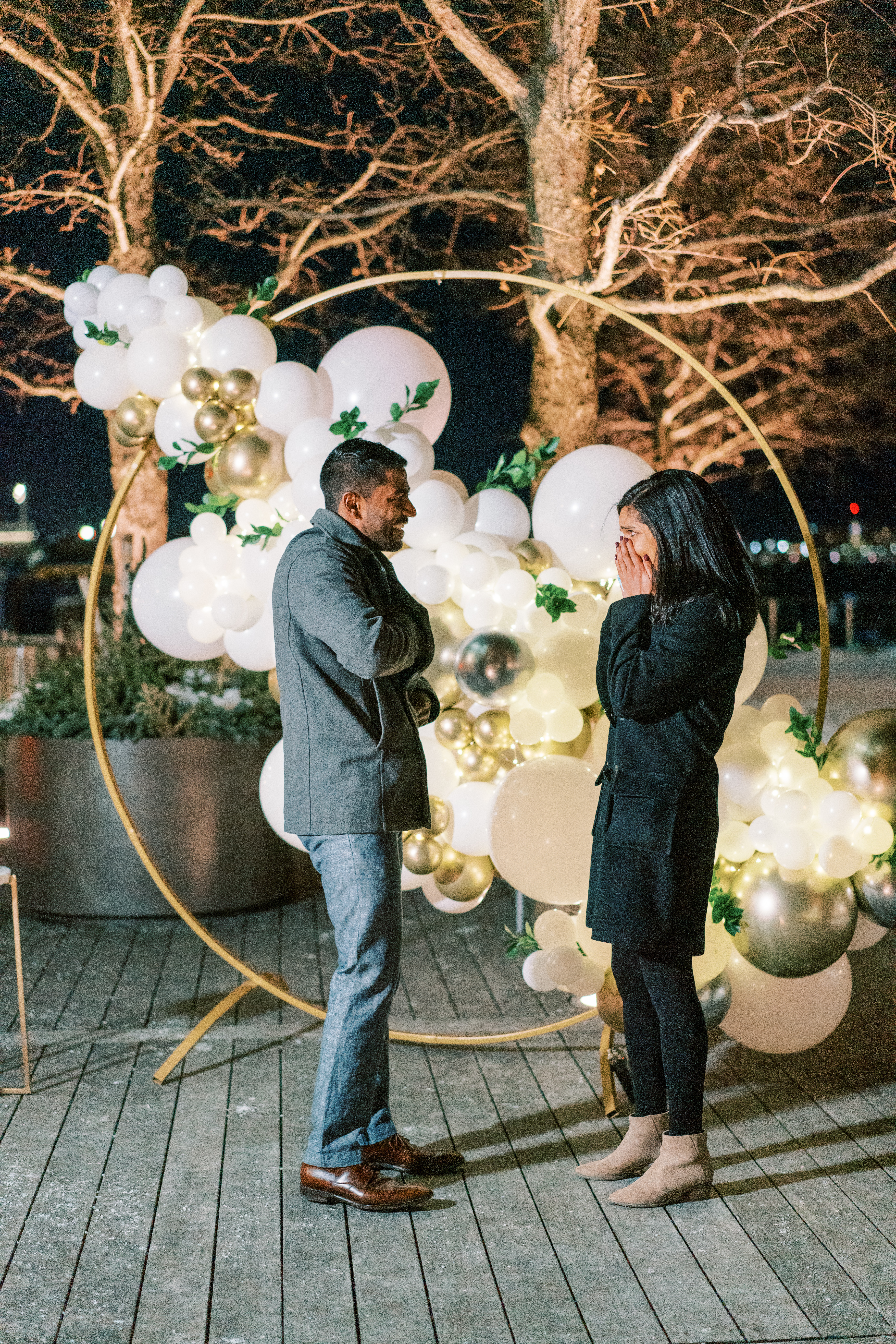 Jonce and Katie
A police officer and nurse practitioner walk into a bar … no, this isn't a joke! Jonce, a police officer, and Katie, a nurse practitioner, met in 2016 while out at a downtown Cincinnati bar. Though initially Jonce had planned on staying in, an acquaintance invited him to go out—which turned into "one of the best decisions [he] ever made!" He and Katie remained close for years following that night, but it wasn't until Jonce's father got sick at the beginning of 2019 that Katie began to play a larger role in his life. Her support throughout his father's illness and following his passing made Jonce realize he didn't want to live without her. The two started dating later that year and have been each other's support system ever since. 
With the help of The Knot and local wedding pros A Charming Fete, Jenny Haas Photography, Storybox Cinema, Flohemian Floral and Alpha Lit Lexington, Jonce and Katie set out for what Katie thought would be dinner outdoors with their pup Zoey in March. Upon entering Bellevue Beach Park, she was greeted with large marquee letters decorated with florals that said "Forever Starts Now," the ultimate setting for Jonce's proposal. The to-be-weds were joined by family and friends afterward to celebrate.
Jake and Shannon
Both physicians' assistants, Jake and Shannon met the way many couples meet nowadays—online! Early on in the COVID-19 pandemic, the two matched on Hinge. After a few weeks of messaging back and forth, they scheduled their first date at the St. Louis Zoo. Despite the 95-degree weather, the pair walked, talked and laughed for hours that day. To prolong their time together, they picked up Panda Express and continued to bond over shared stories and fortune cookies (they still have their fortunes from their cookies that night!). In reminiscing on their first date Jake said, "After she left that evening, I knew I had to see her again! She must have felt the same about me because our next date happened just two days later and we've been happily together ever since!" And so their mid-pandemic love story continued …
As a nod to their memorable first date, The Knot worked with local wedding pros in St Louis Hillary J Events, By Leona, Sarah Harvey Photography, Claire Forrest Films, Styled and Staged STL, Courtney Winet Design, Caroline Wright Charcuterie and Florelle Rodenberg to stage the perfect proposal for Jake and Shannon. Complete with Panda Express, Jake popped the question at an intimate private picnic at the urban greenhouse Verde on Cherokee! 
Florian and Krystyne
Florian and Krystyne met online in early November 2019, but couldn't meet in person until weeks later due to Krystyne's busy schedule as an Otolaryngology Resident. In order to not lose touch, Florian suggested they send each other a song every day prior to their first date. Krystyne loved this idea, and the two have been together ever since. Love truly was essential for this couple, as Krystyne's job as an Otolaryngology (ear, nose and throat) Resident kept her working long hours on the front lines during the pandemic.
After making their way to San Francisco for Krystyne's fellowship interview in May, Florian popped the question at the Palace of Fine Arts Park with the help of The Knot, Atlas Design Studio, Ben Ingram Visuals, Killer Creations Cinematography and Le Bouquet Flower Shop. Krystyne's family made a surprise appearance following the proposal and celebrated their engagement over dinner with the couple. The ring, meticulously designed by Florian, features an emerald center stone, Krystyne's birthstone, adorned with two diamonds, Florian's birthstones. "Together, they represent our past, present, and future," Florian says.
Fatih and Amanda
After being set up by mutual friends, this frontline couple met at a hospital - and have been together ever since! Amanda, an OB-GYN Resident, and Fatih, a U.S. Army veteran and NYFD firefighter, have selflessly spent the pandemic caring for those affected by COVID-19. Amanda took on the unexpected challenge of graduating early from medical school to assist as a resident doctor in the COVID ICU of one of NYC's overwhelmed hospitals, while Fatih worked tirelessly during emergency response in New York City. Fatih, who also happens to be FDNY's Mr. July, has spent the last 2 years with Amanda and couldn't imagine life without his superhero sidekick. 
Overlooking the Manhattan skyline, Fatih got down on one knee at 74 Wythe in Williamsburg, Brooklyn. Amanda believed that they were attending an honorary dinner for frontline workers, but was surprised with a floral-filled rooftop proposal set up by The Knot, Pejy Kash Events, Afrik Armando Portraits, Susan Shek Photography, Ivie Joy Flowers, and By Dami Studio NYC. It was absolutely perfect, and Fatih expects nothing less for his deserving now-fiancée!
Michael and Delanie
Michael, a medical assistant, and Delanie, a Special Education teacher, met in class during their freshman year of college. Even though Michael had a crush on Delanie the second he saw her, it took him two years to work up the courage to ask her out. They have now been together five years, and can't imagine life without each other. Michael says Delanie's nurturing care and determination for her students' success continues to inspire him everyday. The two are big outdoors enthusiasts, always looking for the next adventure.
Under the impression that Michael had to travel to Chicago for a conference, Delanie joined him in the city where they first officially started dating. The pair made their way to the Metropolitan Club at the Willis Tower, formerly the Sears Tower, where they once had their most memorable night filled with dinner, drinks and laughter. Michael told Delani they were meeting a colleague for dinner, but instead proposed to her with their family by their sides. The Knot's team, including Big City Bride, Rebecca Ikes Photography, and Old North Film Co., added to the surprise by sharing heart-felt video messages from Delanie's students congratulating the couple on their engagement.